Development Information
Hardware
For information about the KH-9xx hardware prerequisites and the Arduino shield, see Hardware
Software
We tried to keep the communication between the knitting machine/controller and the host computer as simple as possible. Information about the API and the communication can be found at Software. With this knowledge it should be easy for you to code your own AYAB client software.
Hardware emulation
To be able to develop a client-software without the access to a knitting machine and an AYAB Shield, there is the possibility of using this mode to mockup carriage operation only using your Arduino.
This mode is enabled by setting DBG_NOMACHINE to 1 in the file settings.h
Additionally, you have to connect the following peripherals to your Arduino: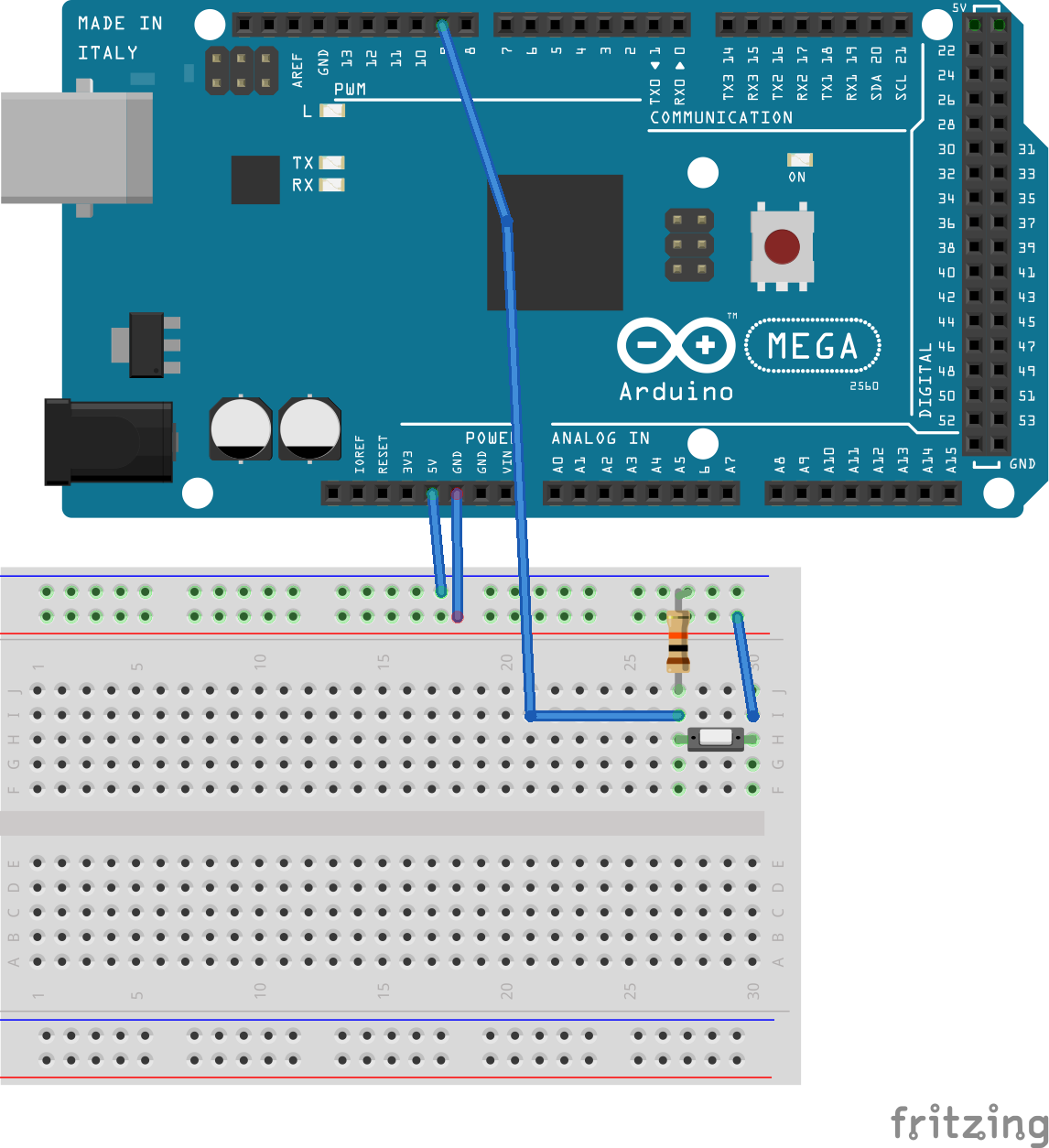 5V   +-----+             
            |             
          +-+-+           
          |   |           
          |   | 10k       
          |   |           
          +-+-+           
            |             
Pin7  +-----+
            |            
            + +           
              |           
              +--+        
            + + Pushbutton
            |             
GND   +-----+             


When this mode is enabled, pressing the button has the same effect as when the carriage reaches the end of a line. At the beginning of the operation, the button press intitializes the machine.
Carriage Lock?
Maybe your Carriage Lock gets lost, with this you may create your own.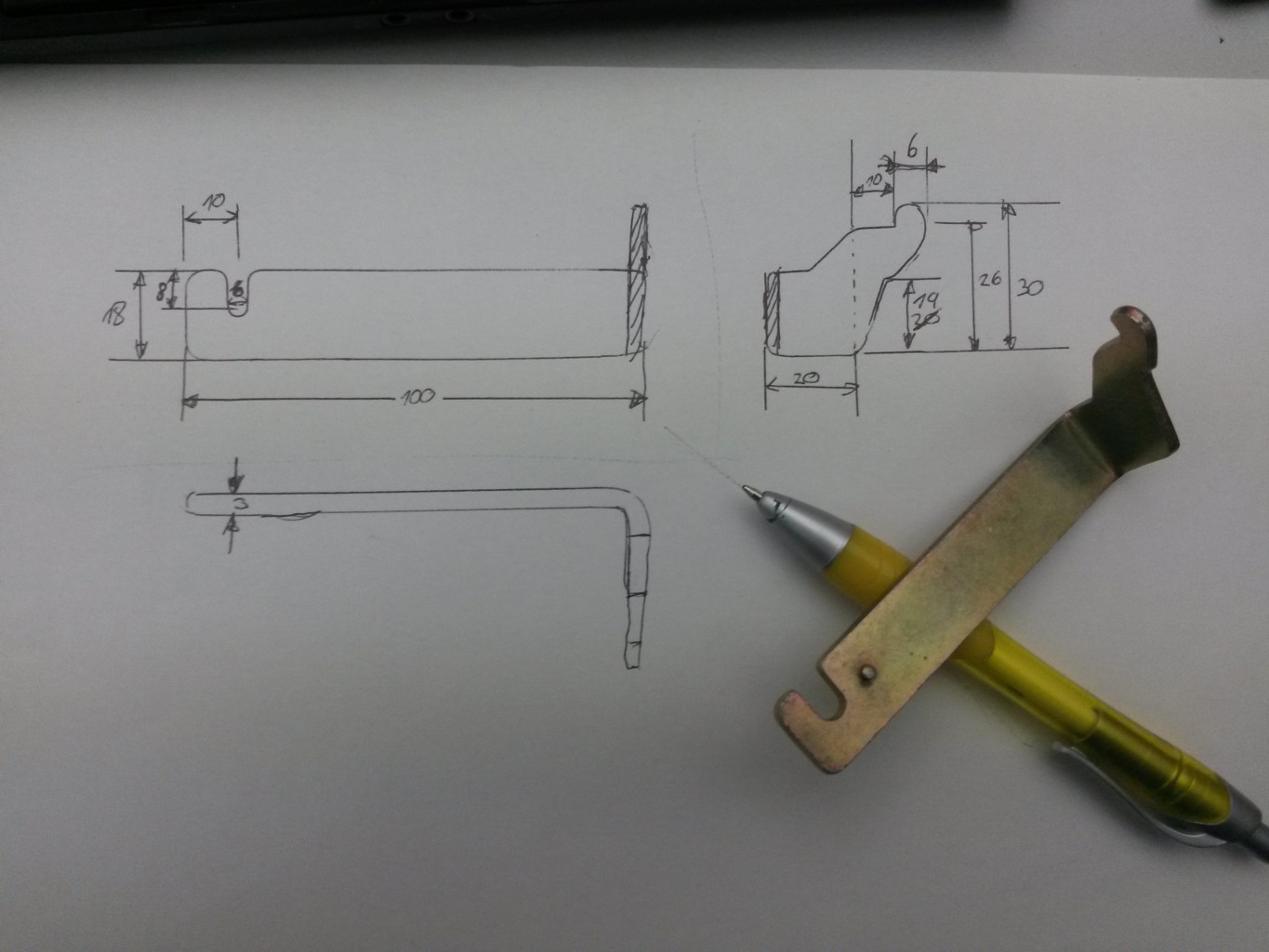 Internal Connectors
KH-910 Internal Connectors
Very Important: You have to isolate the USB of the Arduino from the Power Connector to prevent short circuits!!
| | | |
| --- | --- | --- |
| Pin | Color | Description |
|   |   |   |
| S1 |   |   |
| 1 | orange | 16 V |
| 2 | black | GND |
| 3 | black | GND |
| 4 | red | 5 V |
|   |   |   |
| S2 |   |   |
| 1 | green | 16 V |
| 2 | blue | 16V |
| 3 |   | solenoid |
| 4 |   | solenoid |
| 5 |   | solenoid |
| 6 |   | solenoid |
| 7 |   | solenoid |
| 8 |   | solenoid |
| 9 |   | solenoid |
| 10 |   | solenoid |
|   |   |   |
| S3 |   |   |
| 1 |   | solenoid |
| 2 |   | solenoid |
| 3 |   | solenoid |
| 4 |   | solenoid |
| 5 |   | solenoid |
| 6 |   | solenoid |
| 7 |   | solenoid |
| 8 |   | solenoid |
|   |   |   |
| S5 |   |   |
| 1 | white | 5 V |
| 2 | black | GND |
| 3 | - | - |
| 4 | red | V2 - Needle counter (right fast) |
| 5 | blue | V1 - Needle counter (right slow) |
| 6 | green | Belt shift signal |
| 7 | yellow | GND (?) |
| 8 | black | Hall sensor right |
| 9 | red | Scanner clock |
| 10 | blue | Scanner color (high: black, low: white) |
|   |   |   |
| S7 |   |   |
| 1 | red | Hall sensor left |
| 2 | black | GND |
| 3 | white | 5 V |
KH-930 Internal Connectors
| | | |
| --- | --- | --- |
| Pin | Color | Description |
| S1 |   |   |
| 1 | orange | >12 V (V_solenoid) |
| 2 | black | GND |
| 3 | black | GND |
| 4 | red | 5 V (V_logic) |
| 5 | blue | >10 V (V_help) |
|   |   |   |
| S2 |   |   |
| 1 | white | 5 V |
| 2 | black | GND |
| 3 | red | Hall sensor left (EOL_left) |
|   |   |   |
| S3 |   |   |
| 1 | white | V_logic |
| 2 | grey | GND |
| 3 | brown | V1 |
| 4 | blue | V2 |
| 5 | green | Belt shift signal |
|   |   |   |
| S4 |   |   |
| 1 |   | solenoid F |
| 2 |   | solenoid E |
| 3 |   | solenoid D |
| 4 |   | solenoid C |
| 5 |   | solenoid B |
| 6 |   | solenoid A |
| 7 |   | solenoid 9 |
| 8 |   | solenoid 8 |
|   |   |   |
| S5 |   |   |
| 1 |   | solenoid 7 |
| 2 |   | solenoid 6 |
| 3 |   | solenoid 5 |
| 4 |   | solenoid 4 |
| 5 |   | solenoid 3 |
| 6 |   | solenoid 2 |
| 7 |   | solenoid 1 |
| 8 |   | solenoid 0 |
| 9 |   | V_solenoid |
| 10 |   | V_solenoid |
|   |   |   |
| S6 |   |   |
| 1 | white | 5 V |
| 2 | black | GND |
| 3 | red | Hall sensor right (EOL_right) |
Serial Communication
115200 baud
Line Ending: \n\r (10 13)
Sequence Chart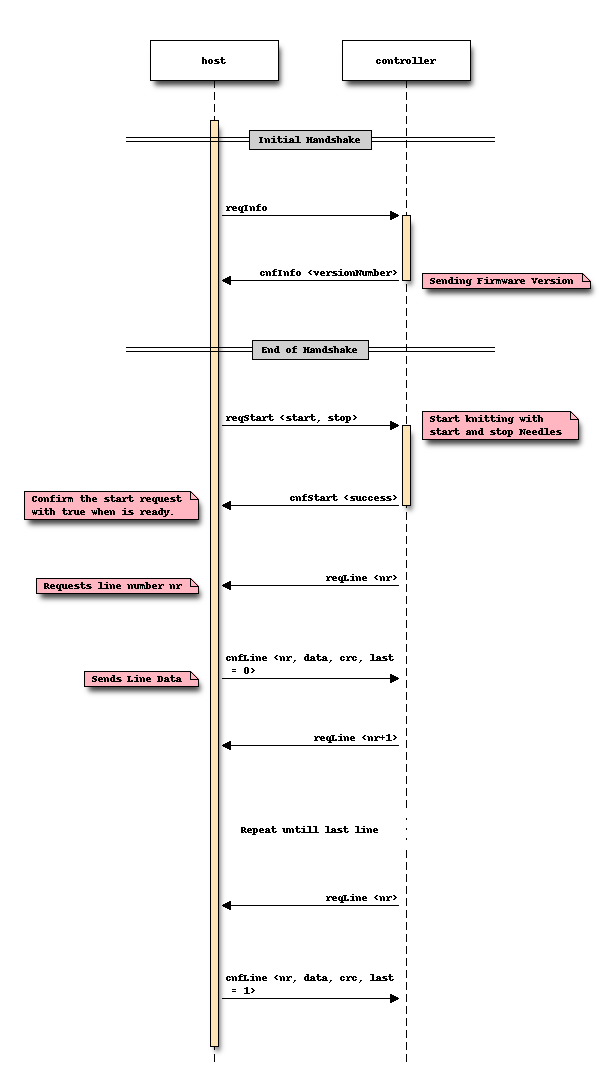 Message identifier format
0b"ABrr CCCC"
| | | | |
| --- | --- | --- | --- |
| A | message source | 0 = host | 1 = hardware |
| B | message type | 0 = request | 1 = confirm |
| r | reserved |   |   |
| CCCC | message identifier |   |   |
Message definitions (API v5)
name
source
id
parameters
 
length incl id
description
reqStart
host
0x01
0xaa 0xbb 0xcc
aa = machine type (see below)
bb = startNeedle (Range: 0..198)
cc = stopNeedle (Range: 1..199)
4
-
cnfStart
hardware
0xC1
0x0a
a = success (0 = false, 1 = true
2
-
reqLine
hardware
0x82
0xaa
aa = lineNumber (Range: 0..255
2
-
cnfLine
host
0x42
0xaa 0xbb[24] 0xbb[..] 0xbb[0] 0xcc 0xdd
aa = lineNumber (Range: 0..255
bb[] = binary pixel data
cc = flags (bit 0: lastLine
dd = CRC8 Checksum
29
-
reqInfo
host
0x03
-
 
1
-
cnfInfo
hardware
0xC3
0xaa 0xbb 0xcc
aa = Version identifier
bb = Major Version
cc = Minor Version
4
-
indInit
hardware
0x84
0x0a
a = initialized (0,1)
2
-
 
 
 
 
 
 
 
debug
hardware
0xFF
debug_string
 
var
-
| | |
| --- | --- |
| ID | Machine Type |
|   |   |
| 0 | undefined/none |
| 1 | KH-910, KH-950(i) |
| 2 | KH-900, KH-930, KH-965(i), CK-35 |
| 3 | KH-270 |
| 255 | Diagnostic Mode |
Message definitions (API v4)
name
source
id
parameters
 
length incl id
description
reqStart
host
0x01
0xaa 0xbb
aa = startNeedle (Range: 0..198)
*bb = stopNeedle (Range: 1..199)
3
-
cnfStart
hardware
0xC1
0x0a
a = success (0 = false, 1 = true)
2
-
reqLine
hardware
0x82
0xaa
aa = lineNumber (Range: 0..255)
2
-
cnfLine
host
0x42
0xaa 0xbb[24] 0xbb[..] 0xbb[0] 0xcc 0xdd
aa = lineNumber (Range: 0..255)
bb[] = binary pixel data
cc = flags (bit 0: lastLine)
dd = CRC8 Checksum
29
-
reqInfo
host
0x03
-
 
1
-
cnfInfo
hardware
0xC3
0xaa 0xbb 0xcc
aa = Version identifier
bb = Major Version
cc = Minor Version
4
-
indInit
hardware
0x84
0x0a
a = initialized (0,1)
2
-
 
 
 
 
 
 
 
debug
hardware
0xFF
debug_string
 
var
-
Message definitions (API v3)
name
source
id
parameters
 
length incl id
description
reqStart
host
0x01
0xaa 0xbb
aa = startNeedle (Range: 0..198)
bb = stopNeedle (Range: 1..199)
3
-
cnfStart
hardware
0xC1
0x0a
a = success (0 = false, 1 = true)
2
-
reqLine
hardware
0x82
0xaa
aa = lineNumber (Range: 0..255)
2
-
cnfLine
host
0x42
0xaa 0xbb[24] 0xbb[..] 0xbb[0] 0xcc 0xdd
aa = lineNumber (Range: 0..255)
bb[] = binary pixel data
cc = flags (bit 0: lastLine)
*dd = CRC8 Checksum//
29
-
reqInfo
host
0x03
-
 
1
-
cnfInfo
hardware
0xC3
0xaa
aa = Version identifier
2
-
debug
hardware
0xFF
debug_string
 
var
-